Close-to-home dialysis treatment a win for Midwest communities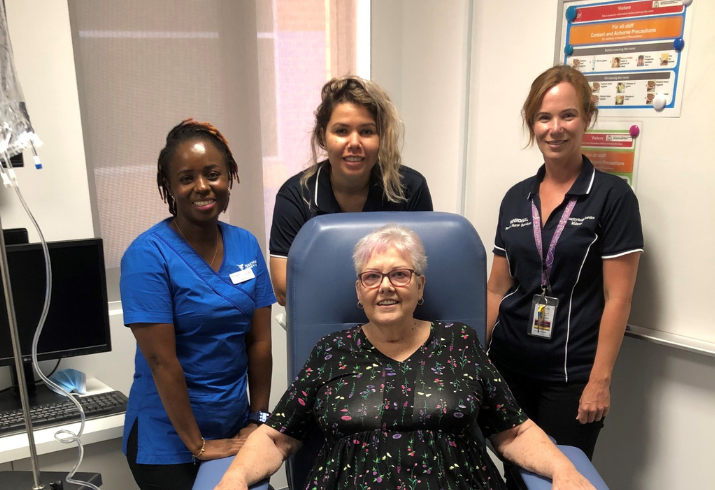 (L-R) Fresenius Nurse Georgina Mupotaringa, A/Clinical Nurse Samara Sekuloff, dialysis patient Joanne and A/Renal Clinical Nurse Consultant Jenny Clements
WA Country Health Service Midwest, in collaboration with Fresenius Medical Care, have celebrated their first peritoneal dialysis patient journey that stayed completely within the Midwest.
From start to finish, dialysis patient Joanne was able to have surgery and treatment without having to travel to Perth, away from family and friends.
In November 2022 Joanne had a peritoneal dialysis tube surgery at Geraldton Regional Hospital. She then received weekly care from the Gaburdiny Renal Centre team until she commenced training for at-home, self-administered dialysis with Fresenius Medical Care in January.
A/Renal Clinical Nurse Consultant Jenny Clements said that close-to-home treatment plays an important role in decreasing stress for patients and their families.
"More people can stay at home and transition onto dialysis without the stress of also leaving the country," Jenny said.
"Commencing dialysis is already a huge change in lifestyle and people often feel unwell as they commence their treatment. This is a great step forward for our consumers and their families."
Joanne said the care she has received has been world-class and that having the option to stay home was important to her mental health.
"The care has been amazing – very helpful, the nurses answer all my questions or concerns, they're always happy to take my calls and very friendly," Joanne said.
"There is no place like home.
"I have no family or support in Perth, and it would be very disruptive and stressful to travel there."
Close-to-home care forms part of our Kidney and Disease Strategy 2021-26.