Albany paediatric team create safe space for Indi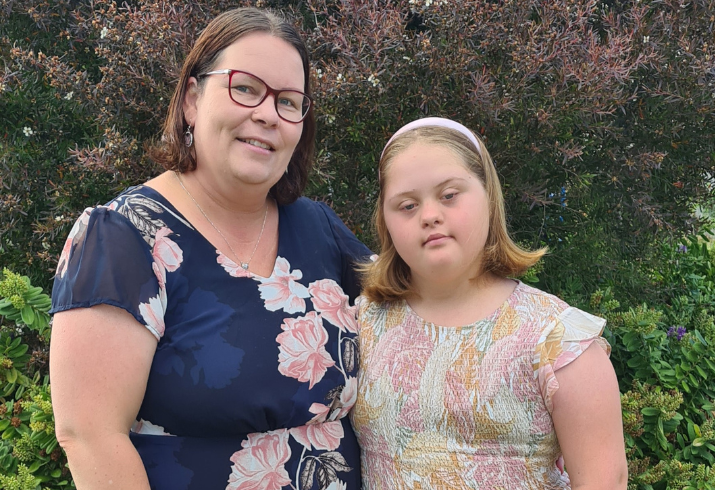 Mariska and Indi, aged 12.
For 12-year-old Indi, visits to her doctor have been happily transformed thanks to the Great Southern Integrated Paediatric Service team.
Diagnosed with a heart condition and Down Syndrome as a baby, Indi has been no stranger to doctors. But an anxiety disorder, including severe needle phobia, made hospital visits tough going.
However, that quickly changed when Indi was introduced to Dr Angela Alessandri and her team of paediatric specialists at Albany Health Campus.
"It had become a very traumatic experience for her and as a mother it's hard to see your child so distressed," Indi's mother Mariska said.
"But it's a whole different experience now, Indi has been able to develop a relationship with Dr Angela. She trusts her and even looks forward to going into hospital to see her – something we never thought would be a reality.
"They have a gorgeous relationship and she's truly created the safe space that Indi needed."
For Indi, regular check ups now see her admitted to hospital and into a calm space created with Dr Alessandri and other familiar faces present.
Together, they've created a care plan based on Indi's developmental needs.
The Great Southern Integrated Paediatric Service was launched in 2020 and has since expanded from one locum paediatrician to four permanent specialists, providing 24/7 care and supported by a team of clinical nurses and allied health professionals.
Dr Alessandri, Albany's Consultant General Paediatrician, said establishing the service meant families were able to feel confident their child's needs were being met in a holistic way.
"Indi is a delightful girl with an incredibly supportive and loving family, but her anxiety and obsessional behaviour have been very challenging to manage at times, including her extreme needle-phobia," she said.
"With the arrival of paediatricians in Albany, we have the opportunity to get to know our patients closely and, in Indi's case, collaborate with our colleagues in the hospital to provide care tailored to their needs.
The transformation in Indi's healthcare journey has had the added benefit of creating positive changes within the home and community.
"Dr Angela has taught Indi that life is safe, her social anxiety is gone, she's able to build relationships with people and spend more time in school and enjoying life," Mariska said.
"Even my anxiety has minimised as I no longer have to worry so much about Indi's healthcare."