Health professionals recognised at rural health's night of nights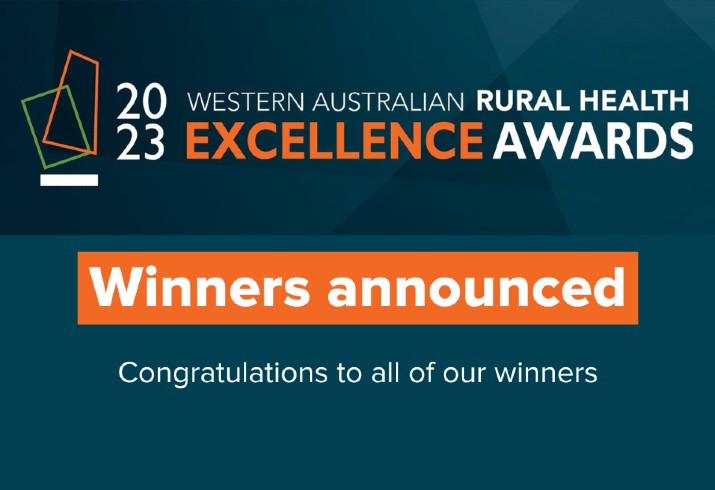 A health team committed to supporting patients and families in their time of greatest need has taken home the top award at the 2023 WA Rural Health Excellence Awards over the weekend.
The WA Country Health Service Pilbara Palliative Care Service – delivered in partnership with Bethesda Health Care – was this year's recipient of the prestigious Chairman's Award, as well as the winner of the Building Healthy Country Communities award.
Hosted by Rural Health West and WA Country Health Service, the annual WA Rural Health Excellence Awards recognise and acknowledge the vital role health professionals play in WA rural communities.
More than thirty health professionals and health teams were recognised for their incredible achievements and contributions at Saturday's ceremony, with 13 award recipients across 12 categories.
WA Country Health Service Chief Executive Jeff Moffet congratulated the finalists and award winners, highlighting the calibre of health professionals working in regional WA.

"These awards are a fantastic opportunity to show our immense gratitude for the remarkable healthcare workers who give so much of themselves to care for country patients," he said.
"Every day, they make outstanding contributions to improving health outcomes for the communities in which they live and work.
"It's particularly heart-warming to see the Pilbara Palliative Care Service – something WA Country Health Service delivers in partnership with Bethesda Health Care – recognised for their incredible work.
"This vital service provides compassionate care and support to patients and their families – keeping people on country and close to home as they approach the end of their life.
Rural Health West Chief Executive Officer, Tim Shackleton echoed the sentiment.
"It is wonderful to observe such strong representation from every region of WA," Mr Shackleton said.
"Collectively, these health professionals have made a significant impact on the lives of countless country people and their communities, demonstrating exceptional leadership, innovation and excellence in their fields.
"They have worked hard to establish trust and build relationships – not just with their patients – but also with their workmates and colleagues in the metro area, in order to deliver exceptional care in rural and remote locations.
"We are extremely proud to celebrate everyone nominated this year for their commitment, dedication and passion."
The awards were judged by a panel of clinicians and representatives from rural and health organisations selected the finalists across twelve award categories.
The WA Rural Health Excellence Awards are proudly sponsored by Curtin University, Edith Cowan University, Royal Flying Doctor Service, St John of God – Bunbury and The Rural Clinical School of WA.
The weekend also played host to the WA Rural Health Long Service Awards, which celebrate the dedication of doctors who have worked in rural locations for more than 20 years.
Twenty-nine doctors were acknowledged for their long service, with Dr John Gliddon from Bunbury receiving a 40 year service award and six others receiving 30 year service awards.
The WA Rural Health Long Service Awards are sponsored by the WA Faculty of the Royal Australian College of General Practitioners.
2023 WA Rural Health Excellence Award Winners
Award recipient

Award Category

Building Healthy Country Communities

WA Country Health Service and Bethesda Health Care's Pilbara Palliative Care Service

Clinical Leadership

Jonathan Blundell, Broome Regional Aboriginal Medical Service

Rural Researcher and Educator

(two winners)

Bronwyn Pierce, The Rural Clinical School of WA and WA Country Health Service


Kathryn Fitzgerald, WA Centre for Rural Health

Specialist of the Year

Jared Watts, WA Country Health Service - Kimberley

Metropolitan-based Bush Champion

Justin Yeung, WA Country Health Service

GP of the Year

Michael Dewing, Bridgetown Medical

People's Choice

Laura Black, Shire of Westonia Surgery

Rural Nurse and Midwife of the Year

Chantelle Pears, WA Country Health Service - Pilbara Population Health

Rural Allied Health Professional of the Year

Sarah Tomlinson, WA Country Health Service – Kimberley

Rising Star

Kyra King, Goldfields Physio

WA Country Health Service Intern of the Year

Lucy Irvine, WA Country Health Service - Bunbury

WA Country Health Service RMO of the Year

Renita Whittle, WA Country Health Service - Broome

Chairman's Award

WA Country Health Service and Bethesda Health Care's Pilbara Palliative Care Service
2023 WA Rural Health Long Service Recipients
40 year service award

Dr John Gliddon, Bunbury

30 year service awards

Dr Ivan Jansz, Dalyellup

Dr Zaki Dorkham, Bunbury

Dr Elena Ghergori, Meektharra


Dr Marisa Gilles, TBA


Dr Graham Rowlands, Norseman


Dr John Buckley, Mandurah

20 year service awards

Dr Tania Botha, Albany

Dr Peter Knausenberger, Locum GP

Dr Brian Malone, Albany

Dr Gavin Matten, Bunbury

Dr Bronwyn Peirce, Bunbury

Dr Peter Smith, Narrogin

Dr Saritha Alva, Bunbury

Dr Danielle Clark, Busselton

Dr Susan Grainger, Busselton


Dr Michelle Howell, Mandurah


Dr Linda Irvine, Wyndham


Dr Diane Mohen, Bunbury


Dr Tony Mylius, Northam


Dr David Offerman, Albany


Dr Koula Pratsis, Bunbury


Dr Julienne Roe, Northam


Dr Amba Roychoudhury, Donnybrook


Dr Elly (Petronella) Slootmans, Geraldton


Dr Gregory Baker, Bunbury


Dr Ann-Marie Guthrie, Secret Harbour


Dr Jaye Martin, Northam


Dr Alex Thng, Mandurah