Evidence of prior Japanese encephalitis virus activity in northern Kimberley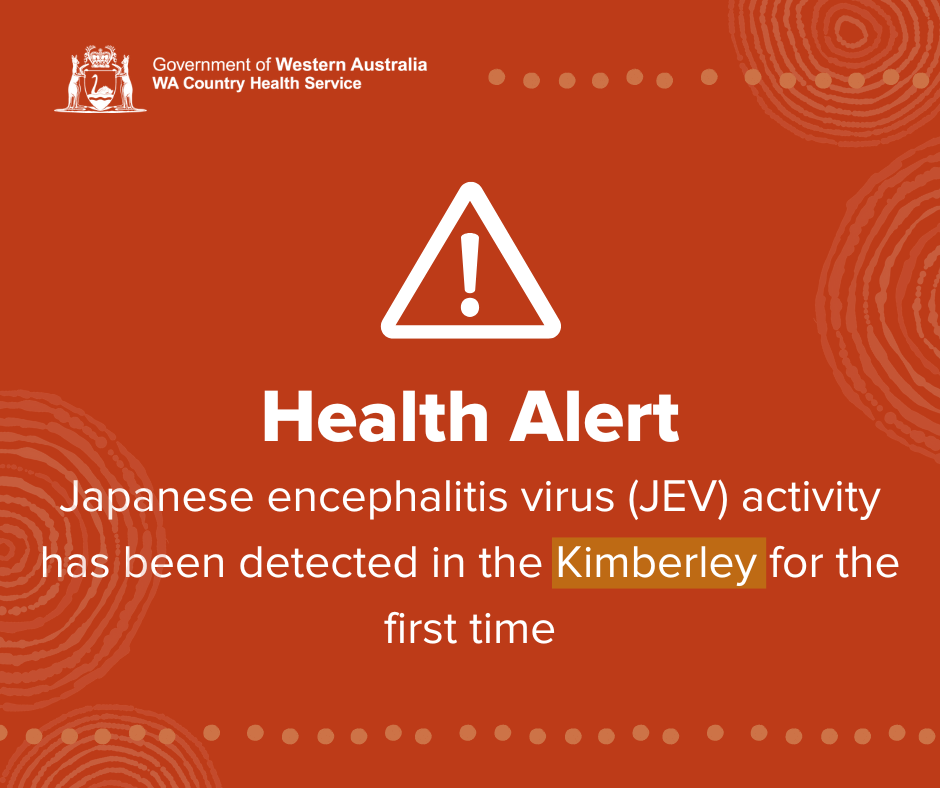 The following media release was distributed by the Department of Health.
The presence of Japanese encephalitis virus (JEV) activity has been detected for the first time in Western Australia.
The samples were taken in October 2022 from two feral pigs in a remote area of the northern Kimberley, approximately 300km west of Kununurra, and recently submitted for retrospective testing.
No active human or animal cases of JE have ever been reported in WA.
The Department of Health's JEV Feral Pig Surveillance Program is part of a broader JEV enhanced monitoring response following an outbreak of Japanese encephalitis (JE) in other mainland Australian States and Territories.
The two feral pigs tested in the far north of the Kimberley were not infected with the virus at the time of testing, instead displaying evidence of JEV infection sometime in the past.
The Department's Director Communicable Disease Control, Dr Paul Armstrong, said that identifying previous JEV activity in WA was not unexpected given the climate, presence of mosquito vectors (which carry the virus), and previous animal and human cases of JE in the Northern Territory.
"JE is a vaccine-preventable disease in people. WA Health has started vaccinating residents living in remote areas of the northern Kimberley who may be at high risk of being bitten by an infected mosquito," Dr Armstrong said.
"The majority of people infected will have no or very mild symptoms and will fully recover, however, a small percentage develop severe illness including an encephalitis (brain inflammation), which can lead to serious complications and death.
The Department, in collaboration with the Department of Primary Industries and Regional Development (DPIRD), continues to undertake enhanced surveillance activities throughout the State to determine the extent of JEV.
There have been 45 human cases of the mosquito-borne disease JE reported in Australia since January 2021, from New South Wales, Queensland, South Australia, Victoria and the Northern Territory. Sadly, seven people have died.
Dr Armstrong said that JEV was transmitted by mosquitoes, it was now more important than ever that people take measures to avoid mosquito bites wherever possible.
"Avoiding mosquito bites will also protect against other mosquito-borne infections for which there is no vaccine, including Murray Valley encephalitis" Dr Armstrong said.
"Anyone who develops a sudden onset of fever, headache, vomiting, seizures or disorientation should seek urgent medical attention.
'Children under five years of age and older people who are infected with JEV are at a higher risk of developing more severe illness.
The Department of Health has also detected widespread evidence of current Murray Valley encephalitis and Kunjin virus activity in the Kimberley region.
People can protect themselves and their families against all mosquito-borne diseases through the following measures:
Avoid outdoor exposure, particularly at dawn and early evening.

Wear protective (long, loose-fitting, light-coloured) clothing when outdoors.

Apply an effective personal repellent containing diethyltoluamide (DEET), picaridin or oil of lemon eucalyptus (also known as PMD) evenly to all areas of exposed skin and always follow the label instructions.

Ensure insect screens are installed and in good condition on houses and caravans.

Use mosquito nets and mosquito-proof tents if sleeping outside.

Use mosquito coils and mosquito lanterns and apply barrier sprays containing bifenthrin in patio and outdoor areas around houses.

Ensure infants and children are adequately protected against mosquito bites, preferably with suitable clothing, shoes/socks, bed nets or other forms of insect screening.

Remove water holding containers from around the home and garden to ensure mosquitoes do not breed in your own backyard.

Cut your grass often and keep it short to minimise mosquitoes seeking shelter around your home.
JEV is a nationally notifiable disease in both humans and animals.
More information about mosquito prevention is available online:
Japanese encephalitis (healthywa.wa.gov.au)