Recent Japanese encephalitis virus activity detected in east Kimberley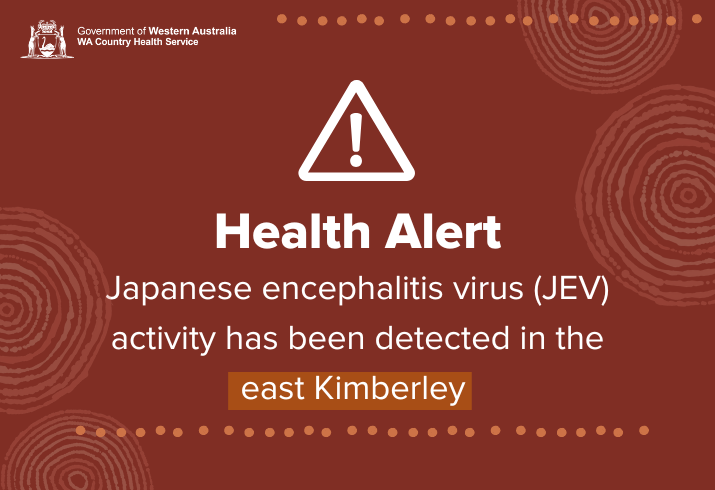 The following release was distributed by the Department of Health.
The Department of Health is again urging residents and travellers in the North West to protect themselves from mosquito bites, following the first evidence of Japanese encephalitis virus (JEV) activity in Halls Creek.
The Department of Health's sentinel chicken surveillance program acts as a warning system for mosquito-borne disease, detecting evidence of prior infection with JEV within the flock in recent months.
JEV is transmitted through the bite of an infected mosquito and can cause the potentially fatal Japanese encephalitis (JE) disease in humans.
Department of Health's Acting Director, Communicable Disease Control, Dr Jelena Maticevic said JEV activity in the region posed a significant risk to human health.
"The Halls Creek result follows other evidence of JEV in the east Kimberley, including in Kununurra and Wyndham, as well as in Newman in the Pilbara, indicating an ongoing risk of JEV in the northern part of the State," Dr Maticevic said.
"Most people infected with JEV will have no or very mild symptoms and will fully recover, however, a small percentage will go on to develop severe illness, including encephalitis (brain inflammation), which can lead to serious complications and death.
"Anyone who develops a sudden onset of fever, headache, neck stiffness, vomiting, seizures or disorientation should seek urgent medical attention."
While there have been no cases of JE reported in people in WA to date, there have been 45 human cases of the mosquito-borne disease JE reported across Australia since January 2021. Sadly, seven of those people have died.
Children under five years of age and older people who are infected with JEV are particularly vulnerable to developing more severe illness.
Dr Maticevic said JE was vaccine preventable and the Department was working with local health services to rollout the JEV vaccine to eligible people living in high-risk areas, such as near wetlands and waterways where wild bird hosts and mosquitoes that can transmit JEV are prevalent.
"Avoiding mosquito bites is essential as it will also protect against other mosquito-borne diseases for which there is no vaccine, including Murray Valley encephalitis (MVE)," Dr Maticevic said.
A significant increase in the activity of flaviviruses, including MVE, JEV and Kunjin, has been detected across much of the State through the Department's mosquito-borne disease surveillance program, including recent detections of flaviviruses in the Mid West and Wheatbelt regions.
The Department continues to undertake surveillance for mosquito-borne viruses across WA.
Mosquitoes may carry viruses that can make people seriously ill. Fight the Bite (HealthyWA) by taking the following simple steps to avoid being bitten:
Cover up while outside - wear loose, long-sleeved, light-coloured clothing, particularly at dawn and dusk when mosquitoes are most active.
Ensure infants and children are adequately protected against mosquito bites, preferably with suitable clothing, shoes/socks, bed nets or other forms of insect screening.
Apply mosquito repellent, containing picaridin, DEET or oil of lemon eucalyptus (OLE – also known as PMD) – evenly to all areas of exposed skin. Read the instructions to find out how often you should reapply repellent.
Mosquito wristbands and patches are not recommended as there is no evidence that these provide good protection against mosquito bites.
Avoid outdoor exposure, particularly at dawn and early evening.
You can also limit the number of mosquitoes in and around your home by:
Cutting your grass often and keeping it short to minimise mosquitoes seeking shelter around your home.
Applying a residual surface spray (containing bifenthrin) to outdoor walls, patios etc where mosquitoes might land – this will kill them. You can buy these products from hardware stores.
Removing water holding containers from around the home and garden to ensure mosquitoes do not breed in your own backyard.
Ensuring insect screens are installed and in good condition on houses and caravans.
Using mosquito nets and mosquito-proof tents if sleeping outside.
Using mosquito coils and mosquito lanterns.
JEV is a nationally notifiable disease in both humans and animals.
More information about vaccination and mosquito prevention is available online:
Japanese encephalitis (healthywa.wa.gov.au)
Read more about JEV in humans (HealthyWA) and animals (external site)