Meet the volunteers making a real difference at Bunbury Regional Hospital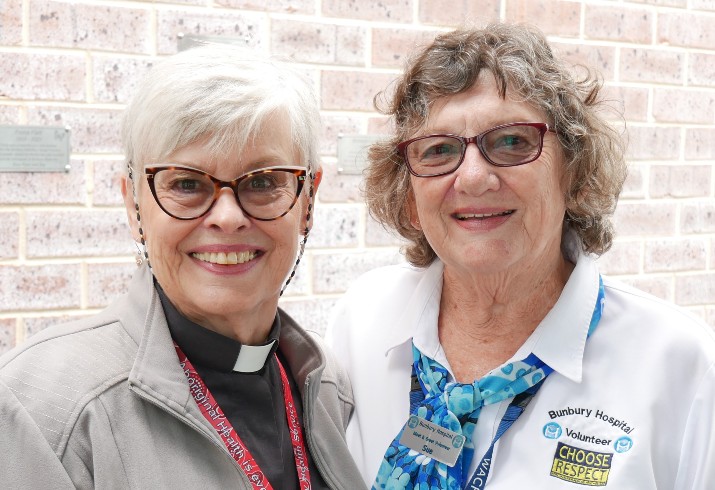 Bunbury Regional Hospital volunteers Carol and Sue.
Across WA Country Health Service (WACHS), volunteers make an important contribution to the health and wellbeing of country communities.
WACHS is seeking people looking to make a difference in the South West community to volunteer at Bunbury Regional Hospital.
Acting Director Bunbury Regional Hospital Jo Moore said volunteers are a valuable source of support for patients, their families, visitors and staff in country WA.
"Whether it's visiting wards and chatting with patients or transporting people to their appointments – our volunteers make a real difference," she said.
Ms Moore said there are many ways to volunteer, including becoming a consumer representative for our health service.
Our consumer representatives provide valuable consumer and patient experience feedback that helps us improve our services and meet the needs of the community," she said.
"Community involvement at this level supports us in providing patient-centred care across the region."
For long-time volunteer Sue, volunteering for the 'Meet and Greet' team at Bunbury Regional Hospital has helped her make lifelong connections and friends.
Sue said she loves volunteering at the hospital because she can help people from all walks of life.
"We are all so different, but we work together as a team to help others and connect patients with important services and support available."
WACHS will host a community morning tea during National Volunteer Week for people interested in volunteering at Bunbury Regional Hospital.
Tuesday 16 May 2023
10.00am to 12.00pm
Dolphin Discovery Centre, Lot 830 Koombana Drive, Bunbury
Email SWconsumerengagement@health.wa.gov.au or register online to attend.