Health is at the heart of everything we do - the power of telehealth in cardiac care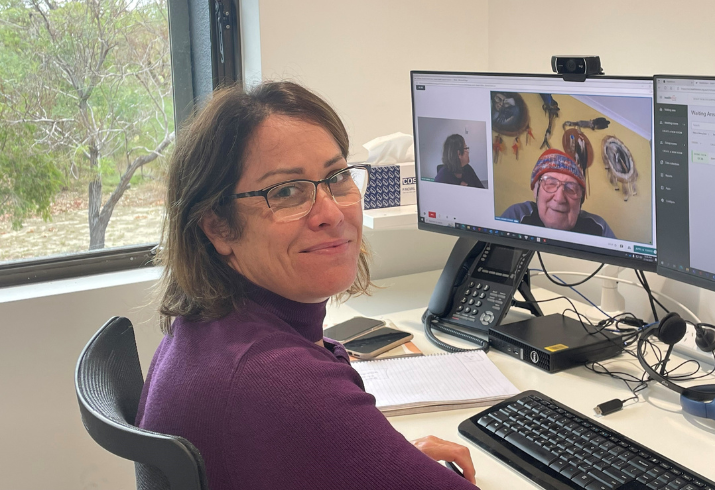 Heart Health Week (1-7 May) is here and it's the perfect time to shine a light on an innovative Heart Health Support Service delivered by the WA Country Health Service (WACHS).
The specialist nurse-led service is transforming cardiac care for country patients, providing one-on-one virtual appointments from the comfort of their own home.
WACHS Cardiac Rehabilitation Clinical Nurse Specialist Nicole Skavik said the support programs are tailored to suit individual patient needs and include education, medication support, physical and mental health support.
"We know how important early intervention and follow up appointments are in the recovery of cardiac patients," she said.
"To be able to provide virtual care at the click of a button, in the comfort of a patient's own home, particularly in the early stages when a patient often can't drive for weeks following a cardiac event, is a huge benefit."
The service has been a game-changer for Wheatbelt residents Darryl Crombie-Stewart, Keith Downsborough and Edward Rowe.
Aboriginal Elder Darryl has a long history with heart disease, with his latest heart attack in February this year. As a former healthcare worker, Darryl (74) enjoys his chats with Nicole and encourages more Aboriginal people to use the service.
"The service is a great advantage as I don't have to travel down to Perth or into Northam for appointments, I can do it all on the computer. Nicole is helpful, supportive and I know she is always contactable if I have any follow-up questions."
A relatively healthy 72-year-old, Keith's heart attack came as a big shock but his recovery has been made easier thanks to the flexibility of the telehealth program.
"I appreciate the convenience of having virtual appointments and having my wife beside me. I feel they provide me more time to have things explained and the opportunity for questions to be asked."
FIFO worker Edward (67) also appreciates the convenience and the flexibility to schedule appointments that work with his roster.
"I've had two online appointments so far and they have been great. I've been given a lot of pointers and am eating well, exercising daily and losing weight," he said.
"Prior to this I would have to travel over 200kms for a follow up appointment, so it's been great not having to take time off work and travel."
The WACHS Heart Health Support Service was introduced in the Wheatbelt in October 2022 as a pilot program and expanded into the South West region in March 2023.
To access the service, patients can seek a referral from their GP or healthcare provider.