Adventure and opportunity draw Dr Coleman to country WA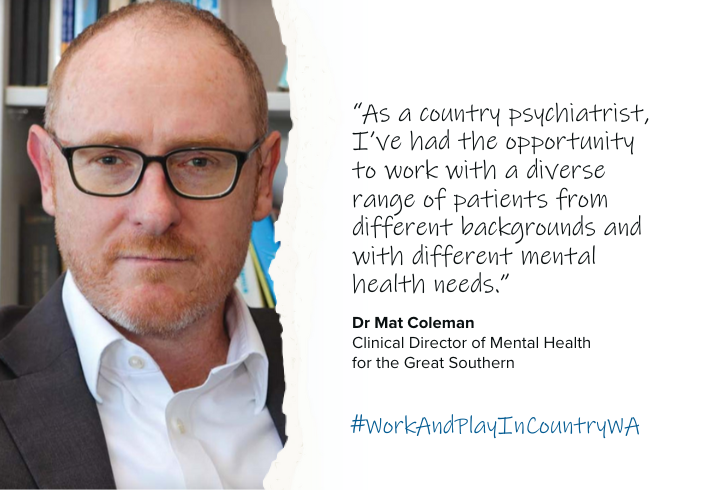 Meet Dr Mat Coleman – our Clinical Director of Mental Health for the Great Southern at WA Country Health Service.
Or if you asked Dr Coleman, he'd describe himself as a father, farmer, healthcare provider and amateur environmentalist living and working in Albany.
Growing up in the western suburbs of Sydney, Dr Coleman never considered a career in country WA specialising in psychiatry would be where he is today.
The journey to a psychiatry career
Psychiatry was never the plan for Dr Coleman. After attending a Christian Brothers School in Penrith, he began studying physiotherapy at Sydney University but soon realised it wasn't the right fit for him and switched to medicine.
"I was accepted into medicine at Flinders University in South Australia and spent six years studying with a diverse group of people and experienced many opportunities during my undergraduate years," Dr Coleman said.
"I trained as a junior doctor in the Northern Territory and spent time travelling to South America and Europe. The junior doctor years were some of the most exciting and fulfilling times in my life.
"It was a critical point too because I realised Sydney, where I had grown up, wasn't the centre of the universe. I had joined the train of thought of most doctors that the most important thing for their career would be a tertiary hospital."
It was not long after starting his medical career in Darwin that Dr Coleman had the epiphany about his interest in psychiatry and mental health.
Dr Coleman moved to WA shortly after to pursue further career opportunities in medicine and eventually psychiatry – a move that many of his peers and seniors thought was a risky pathway.
"I secured a job at Sir Charles Gairdener Hospital when there wasn't a lot of competition, and I started studying a psychology degree at the time for fun," he said.
"So when an opportunity arose in psychiatry, I jumped at it."
The rewards of a career in the outback
In the following years, Dr Coleman took up many rewarding opportunities to practice psychiatry broadly across the south west before the desire to explore the north kicked in.

"After exploring opportunities to work at mental health services in northern WA, I ended up taking a job in the Pilbara," Dr Coleman said.

"I can't begin to describe the number of fun things and adventures I had in the Pilbara. It was an amazing experience working in their rural mental health team and I would spend my time exploring the region on my days off."

Dr Coleman said one of the key advantages of taking a generalist approach is that it allows doctors to work in a variety of settings, including rural areas.

"As a country psychiatrist, I've had the opportunity to work with a diverse range of patients from different backgrounds and with different mental health needs," he said.

"By expanding my knowledge and skills beyond a narrow specialisation, I have been able to explore various fields within psychiatry, such as addiction, and child and adolescent psychiatry."

He believes working in rural areas has allowed him to develop a deeper understanding of the impact of mental health issues on people's lives, especially in remote and isolated communities.

"It has given me opportunity to work collaboratively with other healthcare professionals and develop a diverse skill set so I can offer a wider range of services to my patients to give them the best possible care."
The benefits of working and living in country WA
Dr Coleman said working in the country can be incredibly rewarding both personally and professionally.
It's allowed him to practice a broad range of psychiatry and led to unlikely career pathways.
"I've had the chance to work with unique patient populations, such as those in prisons or remote locations, and explore various fields within psychiatry like addiction and child and adolescent psychiatry," Dr Coleman said.
"It has allowed me to move into management roles and advocacy work. I can impact the field of psychiatry beyond my patients, influencing policies and procedures at a broader level.
"I may not have been appointed as a national Mental Health Commissioner if I had focused solely on one area of psychiatry in the city."
Dr Coleman said his career path reflects one of "breadth versus depth" in medicine and believes there is still much to do and learn in his career.
"While some doctors may choose to become super-specialists in one area, others prefer to develop a broad range of skills and experiences," he said.
The latter certainly worked well for Dr Coleman.
Interested in taking your career to the country?
Chat to our Medical Recruitment Team about our current vacancies or join the WACHS LiveHire Medical Talent Community to be the first to hear about upcoming locum and longer-term opportunities.