Tony clocks up 59 years of country service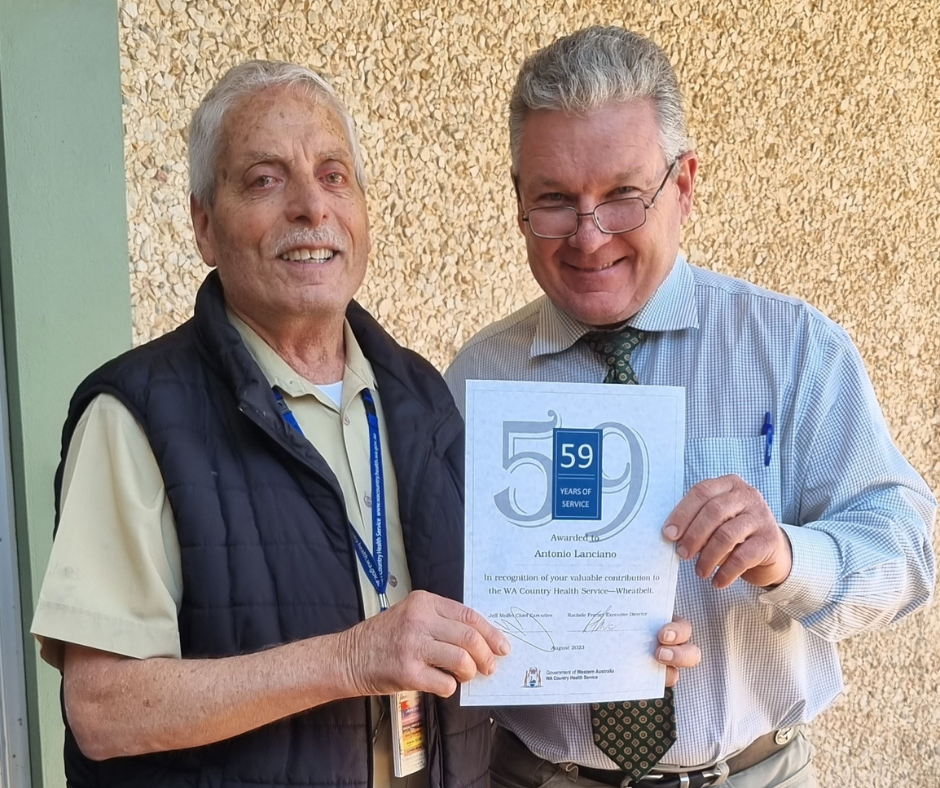 In February 1964 when WA Country Health Service Orderly Tony Lanciano commenced working at Narrogin Health Service, Robert Menzies was the Australian Prime Minister, the world was in the grip of Beatlemania and we were still five years away from landing on the moon.
After a remarkable 59 years of service to Narrogin Health Service and his community, 82-year-old Tony is still going strong.
Originally a tailor and barber by trade, Tony spoke very little English when he first arrived in Australia.
Just a week after stepping off the boat, 23-year-old Tony started working at Narrogin Hospital as a gardening assistant, but he soon became interested in the internal workings of the hospital.
After seeing an advert in the Narrogin Observer for a nursing orderly position, Tony was directed to the Matron, who agreed to give Tony a job as an orderly in the mortuary.
He also completed stints as a nursing orderly in the geriatric and maternity wards.
10 years later, Tony moved to work in the kitchen with another 10 years passing before he took on the role of Narrogin Hospital storeman.
He stayed in the storeman position for 12 years before trying his hand as the general orderly in the laundry, where he still works today.
WACHS Chief Executive Jeff Moffet presented Tony with a special service award during a recent visit to the Wheatbelt by the WACHS Board and members of Executive.
Jeff noted for those assembled that colleagues and managers alike all agree that Tony's work ethic and positive, can-do attitude is an inspiration and that he truly embodies the organisation's values of compassion, integrity and community.
Thank you, Tony, for everything you've done over the last over the last 59 years for the people of Narrogin and surrounding communities.