Old school Lawrie praises telehealth technology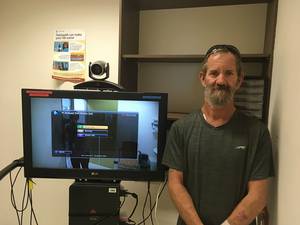 Pilbara resident Lawrie Cook has been able to maintain face-to-face contact with his specialist in Perth despite being more than 1600 kilometres away.
Mr Cook, who lives in South Hedland, was referred to Royal Perth Hospital's Plastic Surgery department following a skin cancer diagnosis.
"Telehealth worked really well for me because I'm a bit old school in that I like to meet people face to face rather than speak over the phone," Mr Cook said.
"The telehealth facilities in Hedland include a really big screen and so it felt as good as in person."
Mr Cook's pre-operative appointment with his surgeon was conducted via videoconferencing technology, which meant he was able to remain in Hedland until the date of his procedure.
Following his surgery, Mr Cook spent a week in Perth with family before travelling home.
Since then, he has had a further three telehealth consults with his specialist who is based at Royal Perth Hospital.
"The appointments are really well organised," Mr Cook said.
"When I go in to have my dressings changed, the nurse takes photos and sends them to Perth so the plastics specialist can see how my wounds are looking.
"I could sit down and have a proper talk and a laugh with the specialist, who also then provided advice and tips to the nurse in the room on the kind of dressing and techniques to use to encourage the healing process.
"The telehealth and nursing staff at Hedland and in Perth are just brilliant; so professional, helpful and caring."
Mr Cook's telehealth tip is to wait a few seconds after the person on the screen stops speaking to make sure they're actually finished.
WA Country Health Service Pilbara Regional Director Margi Faulkner said the organisation's telehealth capability rapidly expanded as a result of the COVID-19 pandemic.
"WACHS has always been a global leader in innovative thinking when it comes to harnessing technology for a more equitable health system."
"But it's the stories like Mr Cook's that remind us of our purpose – ensuring country patients are able to receive world-class healthcare regardless of where they live," she added.
Check with your health professional to see if a telehealth appointment is right for you. For more information visit the HealthyWA website.