Telehealth helps Col receive care closer to home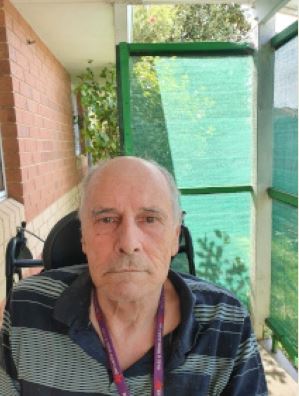 When Albany resident Col suffered a major stroke in January 2011, he was flown to Sir Charles Gairdner Hospital in Perth for acute treatment.
A more recent diagnosis of a condition known as an Abdominal Aortic Aneurism has meant that Col is also monitored and treated through a vascular specialist at Fiona Stanley Hospital.
Wanting to receive care closer to home, Col gave telehealth a go.
Now in his seventies and wheelchair bound following his stroke, Col said he is most grateful to whoever suggested telehealth and booked in his first appointment.
"It was, and continues to be, a great experience," he said. "As I am now considered co-morbid and deal with two hospitals and different specialists, telehealth has saved me many trips to Perth.
"Now I might spend an hour or two at the local hospital and I'm done."
Telehealth appointments are organised by the Regional Telehealth Team in conjunction with the Telehealth Coordinators based at metropolitan hospital sites.
"I go into the hospital to have my tests done and then an hour or so later, I have my telehealth appointment with my specialist and they've already got my test results in front of them, which means I cover two bases in the one trip to the local and nearby Albany Health Campus," Col said.
Having recently purchased a camera for his home computer, as well as his home care agency in Albany purchasing him an iPad, telehealth via videoconference in the home is also an option that Col has been making use of.
"For those appointments where I'm not required to have tests conducted on the same day, it is very convenient for me to have my telehealth appointment at home.
"It's great that we as regional patients now have these options."
WACHS Great Southern Regional Director Geraldine Ennis said the organisation's telehealth capability rapidly expanded as a result of COVID-19.
"WACHS has always been a global leader in innovative thinking when it comes to harnessing technology to deliver equitable healthcare to regional and remote communities.
"Telehealth has significantly changed WA's regional health landscape and COVID-19 has driven further changes, with a wide suite of digital innovations delivered at break neck speed, ensuring regional residents continue to receive the specialist healthcare they need closer to home."
Check with your health professional to see if a telehealth appointment is right for you. For more information visit the HealthyWA website.