Telehealth keeping Dalphine on country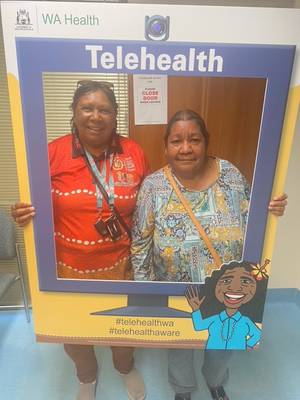 Dalphine Mongoo is thankful the WA Country Health Service (WACHS) is providing her with access to telehealth – meaning she can meet with her specialist in Perth despite being some 400 kilometres away.
Following surgery at Sir Charles Gairdner Hospital earlier this year, Dalphine was able to have her follow up appointment with her surgeon from the comfort of her local healthcare facility - Geraldton Health Campus.
"Instead of having to travel to Perth and stay overnight for what can be a quick appointment, I was able to have my follow up consultation close to home via telehealth and with Aboriginal Medical Service health worker Virginia Cameron by my side," said Dalphine.
This week is Telehealth Awareness Week (19-23 October) where the WA Country Health Service is shining a spotlight on how digital technology is having a positive impact on country people.
Prior to the use of telehealth, Dalphine, pictured (right) with Virginia, would have had to travel 400km to the city, spend the night and navigate her way around a big hospital to meet her specialist. Here, she would have been supported by the Patient Assisted Travel Scheme (PATS).
WACHS Regional Director Midwest Jeff Calver said the organisation's telehealth capability rapidly expanded as a result of the COVID-19 pandemic. "WACHS has always been a global leader in innovative thinking when it comes to harnessing technology for a more equitable health system.
Stories like Dalphine's remind us of our purpose, which is to ensure country patients receive world class healthcare regardless of where they live."
In Western Australia, telehealth technology supports:
country clinicians treating acute emergency patients, including those presenting with mental health concerns
inpatient consults through a virtual ward round
outpatient consults with specialists
training and education for health staff and consumers.
Dalphine (right) with GRAMS health worker Virginia Cameron
Check with your health professional to see if a telehealth appointment is right for you. For more information visit the HealthyWA website.