Virtual physiotherapy pilot to support continued care for patients at home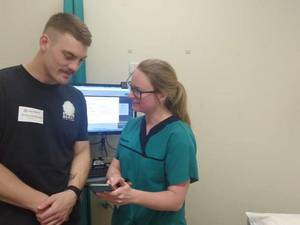 The WA Country Health Service (WACHS) South West region has trialled a virtual app enabling patients to access educational exercise programs and advice closer to home.
The region has expanded its digital health initiatives with a three month trial of the Physitrack App which connected patients to one of the South West's five physiotherapists and occupational therapists involved with the pilot.
Patients accessed customised video-based exercise programs along with educational content and clinical questionnaires, all at the touch of a button.
The app allows physiotherapists and occupational therapists to create tailored exercise programs in seconds with patients able to complete their programs virtually and in-app reminders to keep them on track and motivated.
Therapists also receive real-time insight into how their patients are tracking, pain levels and feedback, allowing them to adjust programs or schedule further appointments as required.
Daniel Mahony, WACHS Area Coordinator Physiotherapy, said Physitrack is a great tool for keeping in touch with remote clients.
"We know that supporting patients to continue their rehabilitation after a hospital admission is crucial to improving patient outcomes," Mr Mahony said.
"Many clients struggle to maintain this momentum so this app is a great tool to both motivate and support patients in their recovery at home.
"When combined with telehealth, we are essentially able to provide a therapy session in their home without the client needing to travel to a health site."
Building a client's program literally takes minutes and can be updated remotely by their therapist and viewed on a personal computer or device in any location, facilitating rehabilitation by telehealth.
"Physitrack will likely make patients more empowered to self-manage their recovery and progress towards their goals, with support available from their therapist.
"We hope hand drawn stick figure exercise programs become a thing of the past.
"It's also a useful tool to have in the event of a further COVID surge to ensure patients can maintain their journey to recovery."
The Physitrack trial ran from 1 October to 31 December 2020 with potential for future rollout across country WA.
WA Country Health Service South West Regional Director Kerry Winsor said the organisation's telehealth capability rapidly expanded as a result of the COVID-19 pandemic.
"WACHS has always been a global leader in innovative thinking when it comes to delivering healthcare to regional and remote communities.
"Telehealth has significantly changed WA's regional health landscape and it's stories like this that remind us of our purpose – ensuring country patients are able to receive world-class healthcare regardless of where they live," she added.
In Western Australia, telehealth technology delivers:
a range of specialist emergency support to staff in country hospitals treating acute emergency patients, including those presenting with mental health concerns
inpatient consults through a virtual ward round
outpatient consults with specialists
training and education for health staff and consumers.
Check with your health professional to see if a telehealth appointment is right for you. For more information visit the HealthyWA website.