Key health initiatives
Emergency response initiatives
The Pilbara Health Initiative emergency response targets are to:
Strengthen emergency transport services in the region by employing community paramedics to support volunteer ambulance services in Karratha and the Burrup Peninsula, Newman and Port Hedland.
Provision of advanced training programs to WACHS Pilbara staff and others to enhance the region's ability to respond to large-scale emergencies.
Provision of new vital signs monitoring equipment and portable practitioner carts in Tom Price, Newman, Port Hedland, Nickol Bay and Onslow hospitals and enhanced electronic networking to extend the Telehealth service in the Pilbara.
Creation of two new Aboriginal liaison officer positions at Newman and Port Hedland hospitals to support Aboriginal patients attending emergency departments.
Construction of an all-weather 24-hour helipad with remote controlled lighting at Karratha's Nickol Bay Hospital to provide safe and efficient emergency evacuations.
Installation of a new state-of-the-art CT scanner at Nickol Bay Hospital, reducing the need for patients to travel to Port Hedland or Perth for scans.

Workforce initiatives
Indigenous Employment Program
The WACHS Pilbara's Indigenous Employment Program (IEP) has been established to develop and promote Indigenous employment opportunities within the Pilbara health sector through:
Recruitment and retention strategies
Training and mentoring opportunities
Cultural awareness and security and
Community development.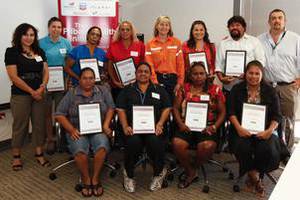 The IEP represents an important partnership between industry and the state government, working with Indigenous people and communities across the Pilbara to improve health outcomes by increasing employment and training for Indigenous people.
Improved specialist services
Provision of an emergency specialist, a surgical specialist and a paediatric specialist based at Nickol Bay Hospital in Karratha to service the West Pilbara; and a visiting ear, nose and throat specialist service for the Tom Price area.
Enhanced primary care
Provision of a nurse practitioner at Newman Hospital to enhance primary care services.
Population health initiatives
Our population health initiatives include:
Appointment of a sexual health nurse at Port Hedland and Newman to educate and influence health behaviours associated with sexually transmitted infections and blood borne viruses in the Pilbara. 
Enhancement of women's and children's health services in Tom Price by increasing the work hours of the women's health nurse at the Nintirri Centre.
Planning and infrastructure initiatives
Key planning and infrastructure initiatives in Pilbara include:
Remedial works at Newman Hospital, including remodelling of the emergency department and nurses' station. 
Additional staff accommodation on the Newman Hospital campus.
A program of essential minor works  at Tom Price and Paraburdoo hospitals including improvements to patient flow and security in accident and emergency departments, upgrades to environmental systems, and replacement of essential plant.
Funding for service and facility master planning for Newman, Tom Price and Paraburdoo Hospitals.
Related pages