Wheatbelt Tackling Indigenous Smoking Program - Ngamari Free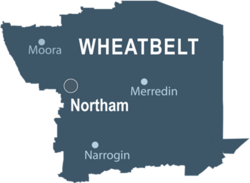 Wheatbelt Tackling Indigenous Smoking (TIS) engages with the community, collaborates with other organisations, empowers others to support clients to quit, provides referrals to quit supports and supports smoke-free environments. The priority populations that we work with include those with a chronic condition, young people, Boodjari Yorgas (Pregnant Women) and men.
The Wheatbelt is a highly complex geographical region that contains 43 local government areas, 27 hospitals, 73 towns and a diverse Aboriginal population that includes Noongar, Balladong, Yuat, Willman and Nyaki Nyaki people (all spellings have been advised by local Elders but it is acknowledged that at times these may differ within groups). The Aboriginal population is also scattered throughout the Wheatbelt contributing to 6% of the total population of 77,780 (2016 Census). TIS operates within the Wheatbelt Aboriginal Health Service (WAHS) in Northam and have staff based with the Primary Health Teams in Merredin, Moora and Narrogin.
Ultimately, the team aim to promote and strengthen the Tackling Indigenous Smoking message in order to create an Ngamari Free (smoke free) future for all Aboriginal people living in the Wheatbelt.
Our 'Ngamari Free' logo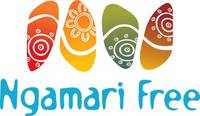 The Wheatbelt Tackling Indigenous Smoking (TIS) team created the slogan "Ngamari Free" in consultation with community, Elders and a Noongar linguist. The logo incorporates elements from a design competition, and includes four lung-shaped icons which represent the four districts of the Wheatbelt region. The logo also incorporates Noongar language and translates to Smoke Free, which encompasses the broad range of population health approaches the team use.
We understand the Noongar language is traditionally a spoken language, and have consulted the Noongar Dictionary, Elders and a Noongar language expert. We respect the diversity of the Noongar language in our vast region, and acknowledge the many different dialects and alternative spellings of ngamari, nyumree and ngummarree.
Resources
Campaigns 2020-21
The Noongar seasonal calendar includes six different seasons within a yearly cycle. The Wheatbelt TIS team have used the seasons to guide the campaigns they have developed to spread the ngamari free message to all of their target populations. These campaigns are multicomponent and include posters, social media campaigns, clips, brochures and articles and can be downloaded on the links below: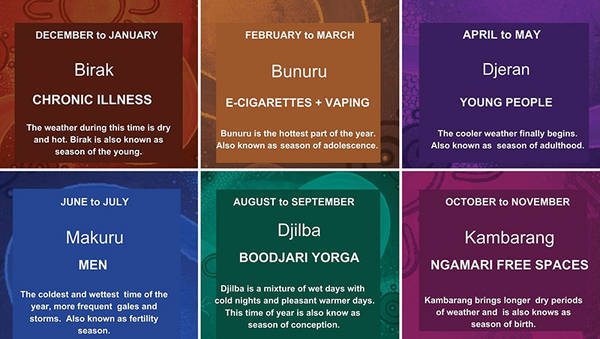 Brochures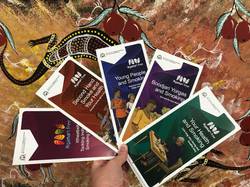 Brochures have been developed to communicate information about the harms of smoking and the support available to quit in a culturally appropriate way. These include:
Animated clips
A suite of education clips about the health effects of smoking and support available to quit have been developed. The clips were created featuring Noongar voices and we are constantly looking at opportunities to share these across the Wheatbelt. Meet Frank, Trevor, Debbie and Grandma Jo and hear their stories in the links below!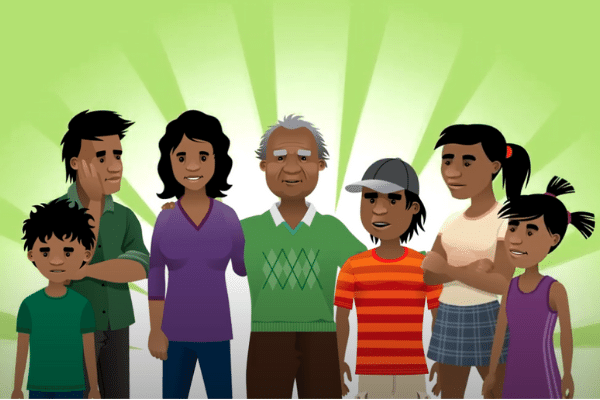 'Drop that Smoke' music video
Young People are a priority for the TIS team and our key message is "keep your future healthy, happy and smoke free!" The team partnered with Indigenous Hip Hop Project, Merredin College, Kellerberrin District High School and Avon Youth to work with 25 young people to develop a 'Drop that Smoke' music video. Over four days during the school holidays, they created a song, produced and then filmed the music video.

Merchandise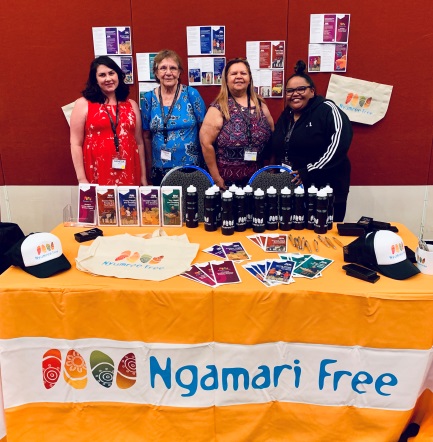 A range of resources has been created to help spread the Ngamari Free message. Promotional merchandise includes cups, travel mugs, clothing, baby bags, night lights, key chains, pens, banners, educational resources and signage.
Resources can be ordered by contacting the TIS team at Wheatbelt Aboriginal Health Service (08) 9690 2888 or emailing wachs-wheatbelt_aboriginalhealthservice@health.wa.gov.au.
Signage
The TIS team have led the way to developing a suite of culturally appropriate no smoking signage and stickers. This signage is suitable for health services, community organisations, workplaces, homes and cars and is being out across the Wheatbelt. If you are interested in being involved, please contact wachs-wheatbelt_aboriginalhealthservice@health.wa.gov.au.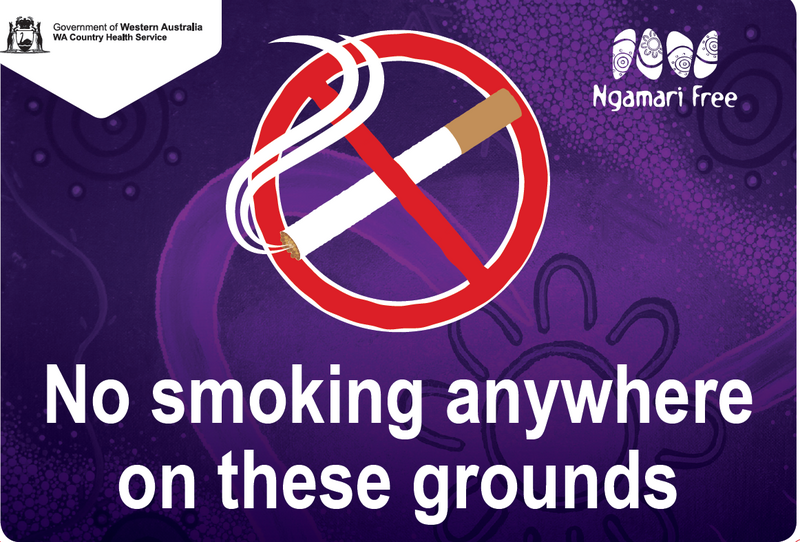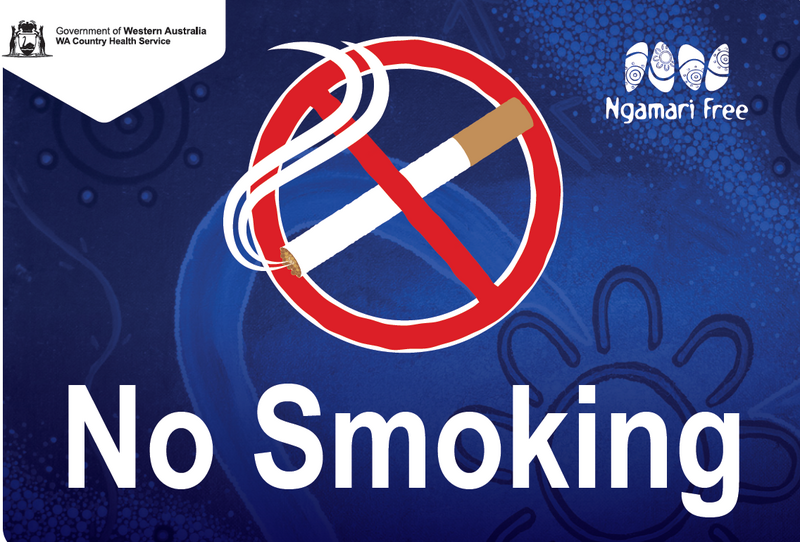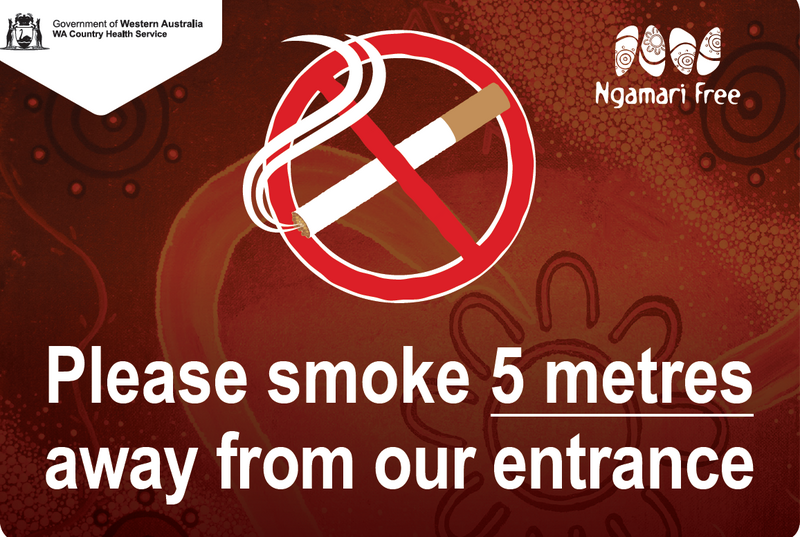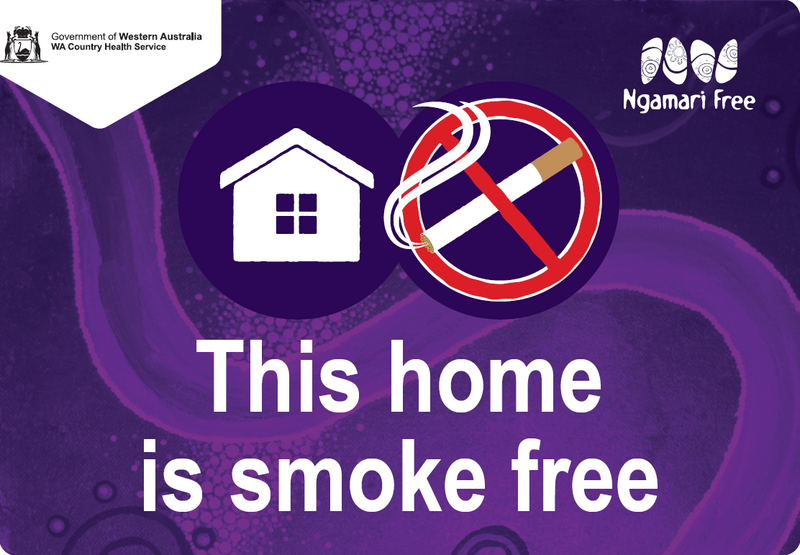 "No smoking anywhere on these grounds" – A4 outdoor signs (in purple only)
"No Smoking" – A5 stickers (in blue only)
"Please smoke 5 metres away from our entrance" – A5 stickers (in brown only)
"This home is smoke free" – A5 stickers (in blue, magenta, purple and green)
"This car is smoke free" – Bumper stickers (in blue, magenta, purple and green)
News
Engaging with the community, collaborating with other organisations to create smoke free events is important to enhance the reach of our TIS messaging. The members of the TIS team pride themselves on being proactive and creating culturally appropriate events and activities. Find out more about what the team has been up to below:
Stay up to date

Contact the team
For more information follow our My Healthy Wheatbelt Facebook page, check out the TIS website, email wachs-wheatbelt_aboriginalhealthservice@health.wa.gov.au or call the Tackling Indigenous Smoking team on: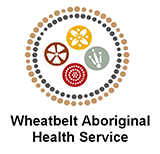 Wheatbelt Aboriginal Health Service Avon and Central: (08) 9690 2888
Wheatbelt Aboriginal Health Service Western: (08) 9651 0270
Wheatbelt Aboriginal Health Service Eastern: (08) 9081 3222
Wheatbelt Aboriginal Health Service Southern: (08) 9881 0385
You can also subscribe to the WA Country Health Service Wheatbelt Aboriginal Health Service e-newsletter.