Dr Lucia Wang experiences rural practice in the Pilbara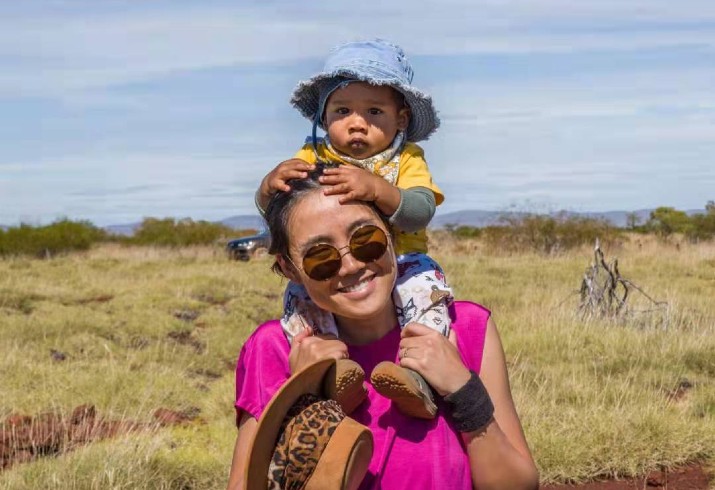 Dr Lucia Wang is a District Medical Officer (DMO) in WA Country Health Service's (WACHS) Pilbara region. A fellow of the Australian College of Rural and Remote Medicine and The Royal Australian College of General Practitioners, Lucia studied a Bachelor of Medicine and Bachelor of Surgery with the University of Sydney, completing her studies in 2012. As part of her training, Lucia signed up for the John Flynn Placement Program, being placed in the rural community of Karratha and spending time there in her second and third year of medical school.

Lucia thoroughly enjoyed her transition from Sydney to the Pilbara.

"The exposure you get in a rural setting is amazing - I didn't originally have rural practice in my career plan but once I started, I was sold! What really motivated me was the balance I could achieve between acute and long-standing patient care," Lucia said.

"At the time I was struggling to pick between two specialties. When I found that rural practice would allow me to do both, it was a no brainer."

Lucia went on to complete her internship in Perth, a placement as a junior doctor in Port Hedland and her obstetrics and gynaecology residency in Perth before moving back to the Pilbara where she's remained ever since.

"It's very special working in the Pilbara region. I have found it a real privilege living here and providing care to multiple generations of families," Lucia added.

"I have had instances where I have delivered the youngest member of a family and then provided palliative care to the oldest member and everyone in between - you really get to know and care for your patients and develop strong bonds."

"There is also a very nice culture and dynamic in the hospital here in Karratha. I feel very lucky working with my team. Rural medicine helps to keep me on my toes as you never really know what you are going to be presented with, it's a healthy challenge."

Lucia describes a typical day working at Karratha Hospital as varied depending on if she's working in the emergency department (ED) or obstetrics.

"If I am assisting in the ED, I could be assessing acute patients, managing patient intake or working with visiting fellows from the Australasian College of Emergency Medicine (FACEMS)," Lucia said.

"If I am in obstetrics I could be assisting in the labour and birth suite, be on-call for our maternity unit with planned inductions or caesareans and I could also be on-call in the ED for obstetric related queries."

In Karratha, DMOs play an integral role in supporting doctors in the more remote areas of the Pilbara region.

DMO shifts occur in areas such as Roebourne, a district hospital about 30 minutes' drive from Karratha, involving providing support to the GP practice and looking after emergency patients.

As far as procedural skills go Lucia says rural health is one of the best ways to learn.

"I really believe that having strong procedural skills allows a rural generalist to better serve their community," Lucia said.

"With medicine being such a dynamic field, there is always more to learn and working in rural regions presents a multitude of different cases and learning opportunities. In the ED we get to learn from our FACEM colleagues and WACHS facilitates procedural workshops through Rural Health West which we can attend in one of the Perth based hospitals."

The small-town feel, and carefree lifestyle also contribute to why Lucia enjoys working in Karratha.

"I really love it in Karratha, my family and I have managed to achieve a great work/life balance," Lucia said.

"There are lots of social groups and recreational clubs here that you can be a part of. Since having a baby I've found lots of mothers' groups and a great support network in the community."

"The Pilbara is a lovely part of the state with many spots not necessarily on the tourist radar – there's easy access to beaches, pristine waters that you can go fishing and diving in and there are amazing natural parks such as Karijini that you can visit. We also really enjoy going for camping trips further inland, there are so many options!"

WACHS assisted Lucia with her move to the Pilbara several years ago for which she has remained appreciative of and she encourages anyone who will listen to try their hand at working in country WA.

"WACHS has always been very accommodating of my needs since joining all those years ago, especially with my move to the Pilbara," Lucia said.

"I would definitely recommend the move to the country, even if it is just on a trial basis."

"It is great on all fronts, from a professional development perspective to the opportunity for a lifestyle change."

"The doctors out here are always available for a chat with anyone considering the change so if you are considering a move, please feel free to reach out to us!"

To find out more about practicing with WA Country Health Service please contact our Medical Recruitment team.

Take a look at the current medical vacancies with WACHS.