A 20-year career with the WA Country Health Service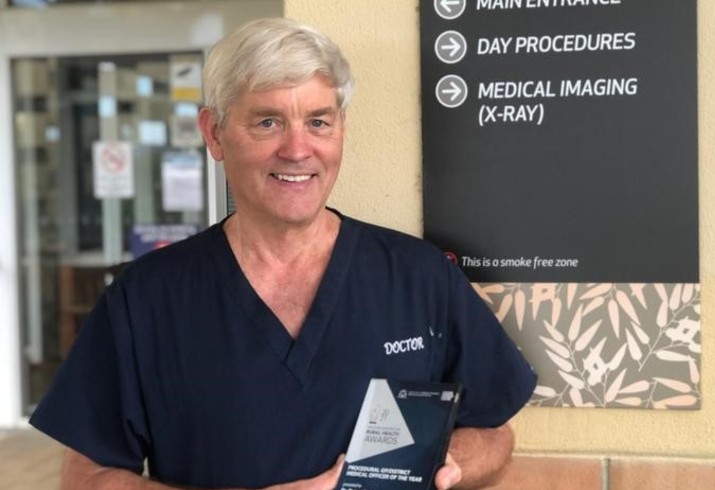 Having worked for the WA Country Health Service (WACHS) for 20 years, there are few people more qualified to speak about the joys of living and working in country WA than Dr Peter Smith, Procedural Senior Medical Practitioner in Emergency Medicine and Obstetrics.
Peter's journey began in Karratha in the Pilbara region while his children completed high school. He then went on to work in Carnarvon in the Midwest and Esperance in the Goldfields before making the move to the scenic Wheatbelt region, his base for the last ten years.
In the Wheatbelt, Peter's role focuses on providing procedural obstetrics and emergency care at Narrogin Hospital.
"What I really enjoy about operating in a rural hospital is that we have a small team of dedicated doctors and nurses. We work very closely together as opposed to metropolitan areas where you have a big team and people come and go," Peter said.
"In a rural setting you get to know each other well and rely closely on your colleagues. There is a real sense of community working in a country hospital which you just don't get in other places. You really get to know your patients."
Community spirit was on show recently at the Narrogin Hospital helipad during a patient transfer to Perth.
"An elderly gentleman had a sudden stroke and needed urgent care. His whole family was there as we waved him goodbye.
"A day later I received a lovely letter from his daughter telling us that he was fine and thanking our team for our quick response. He has a good prognosis and that gave us all a big thrill. We had been a small part of a big team, navigating many logistics with a great outcome!"
Peter has also spent a lot of his time working with the Rural Clinical School in the Wheatbelt and is a real advocate for practicing medicine in a remote setting.
"As far as career progression and up-skilling goes, working in rural general practice is one of the best avenues you can take. As there are fewer trainees on the ground you are presented with learning opportunities you really won't get in other hospital settings," Peter said.
"It is demanding and challenging, but you will be exposed to all aspects of medical practice. It allows doctors to try a bit of everything and then decide if they want to continue as a generalist or specialise. I have seen many doctors go on to specialise in fields such as anaesthetics, paediatrics, emergency medicine, psychiatry, and more."
Not only a great place to work, the Wheatbelt region is also a beautiful place to live. With its borders stretching to the north and east of Perth, the Wheatbelt boasts diverse landscapes ranging from beautiful white beaches and clear turquoise waters to rolling hills, winding streams and rugged terrain.
Peter describes the region as one of the best kept secrets in WA.
"It really is beautiful here. At the moment we have fields and fields of stunning wildflowers, orchids and canola," Peter said.
"There are also lots of historical sites you can visit such as Wave Rock, Pingelly and museums on farms with old tractors. There are also many nature reserves and national parks."
Peter's message to aspiring medical practitioners is simple.
"If you want to feel like you are part of a community, feel like you're making a difference or if you simply want to try living a different lifestyle you should work for WACHS.
"There are so many benefits to rural practice and it is an area where if you invest your time and energy you can really flourish and grow as a doctor. It is an experience I believe everyone should try at least once in their career."