The rural generalist making a difference in the hospital and beyond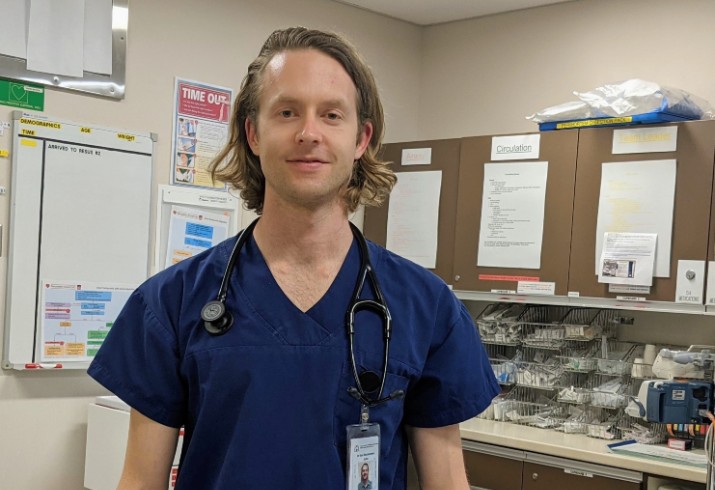 Dr John Van Bockxmeer is a rural generalist working for the WA Country Health Service (WACHS) in the Pilbara region.
A West Australian born and bred, he completed his medical degree with the University of Western Australia before signing up to do a rural rotation with Port Hedland Hospital (now known as Hedland Health Campus). He has worked in the region ever since.
"I originally enrolled in the rural rotation because I wanted a challenge and soon found that I really enjoyed it because it was a very different environment to where I had worked before," John said.
"The relationships you build are so much deeper rurally. You develop real connections with your colleagues and get to know each other's strengths. This has benefit from a clinical perspective because it allows the right team members to treat specific patients, bringing more specialised expertise to their care."
Caring for a community
John says working with WACHS is full of opportunity.
"Working in a small community, you often know the patient or their family. Knowing more about their cultural background or the area they live really helps build trust. There are patients you look after across an extended period, so you really get to know their medical history and can support them on their journey."
For John, one of the highlights of rural medicine is the wide-ranging scope of practice.
"The healthcare we provide spans all stages of life – we have a long-term care facility attached to our hospital and we also have a maternity unit. It makes the scope of practice exciting as it trains you beyond what you would normally see in a specialised hospital," John said.
While John used to live in the Pilbara full time, he now splits his time between Hedland and Perth.
In country practice, John says there is no such thing as a typical day.
"In any one shift I might manage emergency presentations that can range from a motor vehicle accident, an ear infection or a dialysis patient with a kidney problem. It's dynamic and exciting work."
Making a difference beyond the hospital walls
Working in a rural area has also given John perspective beyond just the immediate needs of a patient.
"Personally, I have gained an appreciation of the social determinants of health, how broader government policies and cycles of intergenerational trauma can result in worsening health outcomes for patients.
"I think that has really changed the way I practice, giving me a lens to understand the acute issue but also the societal factors that can lead to a patient's presentation. It makes you think more about how you can make an impact outside of your work."
While working in Port Hedland John founded the charity Fair Game which works with rural communities to promote healthy lifestyle choices, reduce the risk of non-communicable disease, build social cohesion and improve mental wellbeing. In June this year, John received a Medal of the Order of Australia Award for services to medicine and the community.
"The Fair Game journey started when I was an intern in 2010. We were seeing young patients presenting with preventable illness. A group of volunteers and I began recycling sports equipment and traveling to remote areas, using the equipment to run sport, fitness and health education programs. Our aim is to empower people with the tools to make conscious healthy choices and to promote healthcare autonomy.
"Fair Game has grown a lot since its inception and helps more than 6,000 participants annually. I am no longer the Chair or CEO, but go on trips as a volunteer and provide strategic vision as a patron."
The unique opportunities in country practice
For John, the opportunity to work beyond the clinical setting has been a highlight of his career in rural health.
"We have lots of meaningful opportunities in Hedland including educating students, residents and junior doctors.
"There are local leadership opportunities too. A good example is our current project redesigning the way our fracture clinic operates. As a rural doctor we can easily understand the contributing factors and make quality improvement changes quite easily."
Working regionally also gives doctors access to technology innovations, including remote consultations and virtual care which John and the team use regularly for both medical and psychological issues.
"We have been able to incorporate assessment by remote mental health nurses which is great when it's the middle of the night and you don't have anyone locally available."
Life in the Pilbara
John is a real advocate for the region itself and the lifestyle it has to offer.
"The landscapes here are very beautiful. There are a lot of gorges, rivers and water holes. The Pilbara is a place with a hard-working and youthful energy and sense of optimism. There are many people doing interesting things, whether it be with their jobs or in their personal lives.
"In Port Hedland, we recently celebrated the reopening of a local gallery called Spinifex Hill. They have art exhibitions every few months and it is a really good opportunity for the community to come together and celebrate what is unique about our area.
John's advice to doctors looking at working in country health would be to consider the local landscapes, lifestyle opportunities available and the type of community they would like to live in.
"The more open-minded you are to people who come together from different backgrounds the better the experience you will have."
To find out more about working with WA Country Health Service please contact our Medical Recruitment Team or visit our medical vacancies page for current opportunities.