The sky's the limit for this Kimberley doctor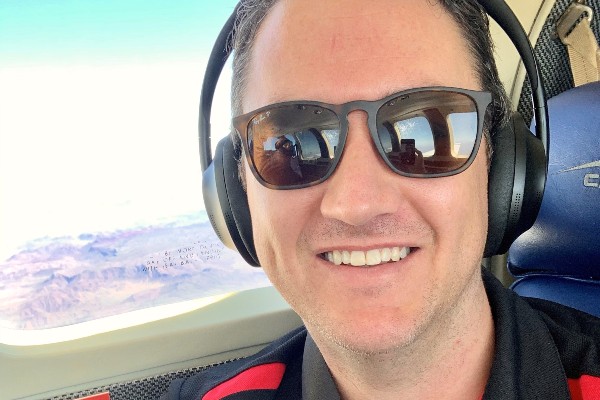 Based in the Kimberley, Dr Jared Watts is Head of Obstetrics and Gynaecology for the WA Country Health Service (WACHS).
Jared's career in rural medicine began in 2005 as a medical student in Broome.
"I loved it from the start – the people, the lifestyle, I was hooked. I went on to practice as a junior doctor with WACHS, with opportunities in Alice Springs and Port Hedland.
"This is when I started to discover the amazing way that country hospitals are run."
Upon graduation as a specialist, Jared originally signed up to work in a private hospital. But when his dream job came up in Broome, applying was no brainer.
"I've been in the Kimberley ever since. It has been an incredible adventure and I wouldn't trade it for the world."
If you ask Jared what a typical day in his job looks like, you'll be met with a smile.
"There is no such thing as a typical day, and that's why I love it so much," he says.
"Sometimes I don't even know where I'm going to sleep at night because I have had to jump on a Royal Flying Doctor Service plane and tend to a patients in remote communities. It's my role to stabilise these patients and bring them back to the hospital in Broome.
"I am spread across five different hospitals and I get to fly over beautiful scenery that tourists pay thousands of dollars to see and at the same time, save lives! Tell me, is there a better job than this?"
Shifts based in Broome Regional Hospital are equally as diverse.
"One minute I may be tending to complex cases, then will head to the clinic and ten minutes in, I get a call saying there has been a complication in the Emergency Department and a patient is in decline so will rush to theatre for an emergency caesarean section before I head back to the clinic again.
"The variety you have every day is just unbelievable. It's really only in small hospitals that you can operate this way. You know everyone and it's an environment where we all support each other and chip in where needed.
"I recently had a complicated surgery and reached out to my colleague, a general surgeon who sits near me. He came to help straight away. We were able to solve the case and worked together brilliantly. If we had been at a metropolitan site, I would have been waiting two or three hours for a general surgeon to be available. That's what I love about working in a rural hospital."
For Jared, the highlights of working in the Kimberley are many.
"When you work in a remote hospital you can be there for your patients through thick and thin. I've had patients who have had very difficult pregnancies with a poor outcome but then two years later they are in to see me again and deliver a beautiful healthy baby. It is just so special to have been with them through their journey and share in their joy when it finally happens for them."
Over the years, Jared has trained many students and junior doctors.
"The students out here have an amazing experience. When I go to operate, they get to scrub in and be my primary assistants.
"Students in city locations would be competing for the opportunity to sit in on these procedures but in our remote hospitals they are a valued and needed part of the team and they get one-on-one training."
Jared says medical students in rural settings also have the opportunity to get to know patients and build trust.
"When I was a medical student in the Kimberley, I delivered my third and fourth baby in Derby Hospital. The parents of the fourth baby ended up naming him after me. That will always be a very special memory.
Jared says WACHS is a supportive employer, helping medical practitioners pursue career goals.
"I always had a dream to work for Doctors Without Borders (DWB) and WACHS was really flexible and accommodating in helping me achieve this. Before COVID, I was working for ten months a year with WACHS and the other two months I would work for DWB in countries such as Cambodia, Nigeria, Syria and Laos. I learnt so much from these experiences.
"WACHS has also paid for leadership courses, training in clinical governance and nurtured me along my journey from being a junior doctor into my role as Director of Obstetrics and Gynaecology which is something I will always appreciate."
Jared's advice to any doctor thinking about working for WACHS would be to give it a go, even if it's just on a locum basis.
"There are so many amazing opportunities to upskill and learn which you just don't get anywhere else. The truly amazing thing about working for WACHS is the fact that you have the opportunity to choose your own path and run with it."
To find out more about working with WACHS contact our Medical Recruitment Team or visit our living and working in country WA page. For current opportunities visit our medical vacancies page.
Alternatively join the WACHS LiveHire Medical Talent Community to be the first to hear about upcoming locum and longer term opportunities.