Dr Daniel Laubscher couldn't pass up the Midwest's lifestyle and career opportunities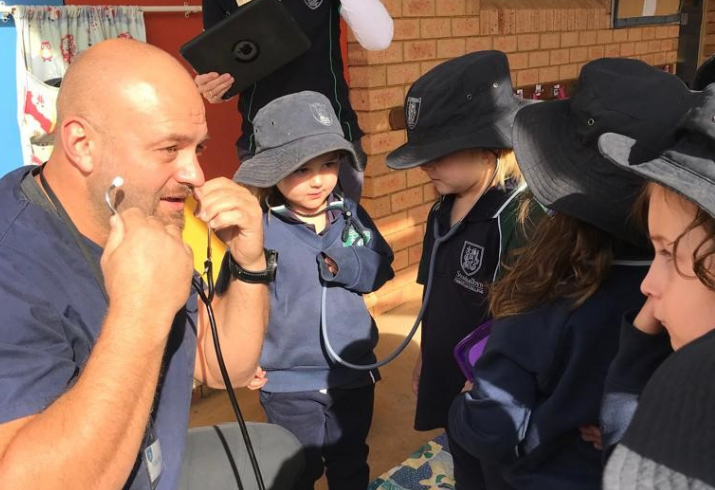 Dr Laubscher at a community outreach (pre-COVID-19).
Dr Daniel Laubscher is a Senior Medical Practitioner in the emergency department (ED) at Geraldton Regional Hospital – WA Country Health Service (WACHS) Midwest.
Originally from South Africa, Dan moved to Victoria in 2012 before relocating to Geraldton after hearing about the lifestyle and career opportunities Western Australia had to offer.
Nine years on, Dan and his family say there is nowhere else they would rather be.
"I first heard about Geraldton as I am a big fan of kite surfing and a colleague I was working with over east used to locum out here."
"I have four children and we fell in love with the landscape straight away, they all take part in water sporting activities and there is a lot on offer from that perspective," Dan said.
Dan has become a key player in the ED at Geraldton Regional Hospital since relocating and says the quality of service is high.
"The ED is a very high functioning unit and has been a real motivator in my decision to stay all these years, I really believe in my team and what we are delivering."
"The work that we do is incredibly rewarding, but it is also challenging."
"The country is a great set up for doctors who have the ability and drive to develop their skills and practice independently."
Speaking of development, Dan believes rural medicine helps doctors to develop their generalist skills and has seen the improvement not just in his own practice but also his colleagues'.
"A Canadian doctor I work with was practicing as a General Practitioner (GP) before she moved to Australia, she had fantastic skills and within a year I saw her knowledge increase ten-fold."
"This has been the case with many of our doctors, it's an environment where you can grow at an incredibly fast pace and it's extremely satisfying."
As far as the patients go who present to the ED, Dan says a lot are flown to Perth when in a critical condition, but a good proportion are kept in Geraldton and treated on the ground.
"A recent case I can think of is a 13 year old girl who was diagnosed with strep throat and presented to our department with kidney failure. She had gained about 20 kilograms in a matter of a week and had a strange rash on her skin."
"We quickly organised contact tracing and established a roadmap of where she had been. Her family didn't want her to be transferred so we kept her in the ED and managed to treat her symptoms locally."
"We had a very good outcome in this case, as there were no close contacts who caught the infection and she has since bounced back and is in good health."
Cases like these motivate Dan and the other doctors in his team, seeing patients well, happy and back in the community is a real highlight.
"As it's such a small town, I see these people socially outside of work as well, and it's rewarding to have a place in the community."
When he thinks about the community and region, Dan says it's perfect for those who want to live a country lifestyle and explore the great outdoors.
"Geraldton feels like a big country town and it's completely different from the city. You never get stuck in traffic and it's a great place to move to if you have a young family."
"There is a really good selection of schools here and my family and I go on trips sandboarding in the dunes or fishing at the Abrolhos Islands - it's fantastic."
Dan wants other doctors to come to Geraldton and experience all it has to offer.
"If you're someone who wants to be challenged clinically, be part of a supportive team and enjoy the great outdoors then Geraldton is the place for you!"
To find out more about working with WACHS contact our Medical Recruitment Team or visit our living and working in country WA page. For current opportunities visit our medical vacancies page.
Alternatively join the WACHS LiveHire Medical Talent Community to be the first to hear about upcoming locum and longer term opportunities