Country specialists make their mark on country WA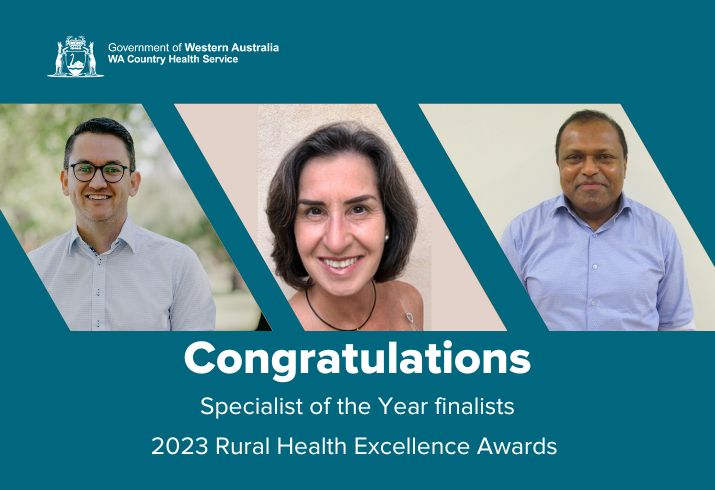 Three WA Country Health Service (WACHS) specialists have seen their dedication to country communities recognised in the 2023 WA Rural Health Excellence Awards.
Doctor Jared Watts, Doctor Angela Alessandri and Doctor Pushpika (Chandimal) Gunaratne have each been shortlisted in the annual awards' Specialist of the Year category.
Currently in his dream job as a Specialist Obstetrician and Gynaecologist in the Kimberley, Dr Watts has spent his career supporting vulnerable women across the globe.
He holds the role of Head of Obstetrics and Gynaecology in the Kimberley and Director of Obstetrics and Gynaecology at WACHS.
The Kimberley women he treats during remote and outreach clinics affectionately call him the "ladies' doctor" and welcome him into the sacred space of "secret women's business."
In addition to his work in country WA, Dr Watts volunteers his skills internationally, teaching in Cambodia and Laos and as an Obstetrics and Gynaecology specialist for Medicine Sans Frontiers in Nigeria and Syria.
He also holds the position of Medical Coordinator and Senior Lecturer at the Rural Clinical School of WA and chairs a Joint Committee for GP Obstetrics and Certification Regional Fellows at the Royal Australian and New Zealand College of Obstetricians and Gynaecologists.
Dr Gunaratne is similarly being recognised for his work with vulnerable Aboriginal communities in the Goldfields.
In 2018 Dr Gunaratne was appointed Senior Paediatric Registrar at Kalgoorlie Health Campus where he identified a service delivery gap across Norseman and Esperance.
To support the region, he established and expanded a Paediatric Clinic to enable vulnerable patients and their families to access care closer to home.
Now, he leads the Kalgoorlie Health Campus as Head of Paediatrics and has taken up the role of Director of Clinical Training thanks to his passion for training doctors in country communities and supporting international medical graduates.
Joining Dr Watts and Dr Gunaratne is Albany Health Campus Consultant General Paediatrician Dr Angela Alessandri, who, in 2020, established and expanded the Great Southern Integrated Paediatric Service.
The service has grown from only one visiting paediatrician to four permanent paediatricians providing 24/7 support from a team of clinical nurses, social workers, dieticians and administration officers.
The trio join more than 30 other health professionals WACHS is proud to celebrate as part of the 2023 Rural Health Excellence Awards.