Gaining worldly experience in Kalgoorlie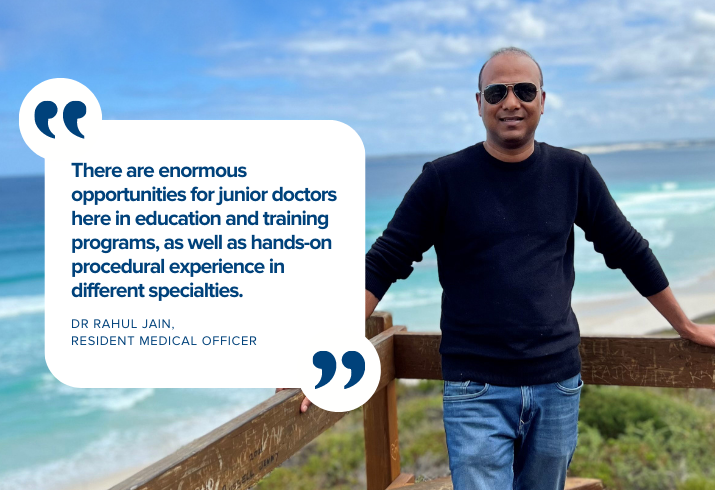 Meet Dr Rahul Jain – Resident Medical Officer at Kalgoorlie Health Campus on his journey to becoming a General Practitioner.
For Dr Jain, taking up residency in Kalgoorlie meant leaving familiar ground in metropolitan health services and taking his young family to a new town where they didn't know anyone.
However, after two years in the Goldfields, he hasn't looked back.
"It's my second year and I've made many friends in the hospital and wider community, as well as reaching new academic and career goals," he said.
One of the reasons Dr Jain enjoys working as a junior doctor in Kalgoorlie is having the opportunity to meet, work and learn from experienced local staff and visiting doctors from around Australia.
"There are enormous opportunities here for junior doctors in education and training programs, as well as hands-on procedural experience in different specialties," he said.
"Working for WA Country Health Service in Kalgoorlie has allowed me to rotate through many hospital departments and gain the experience to apply for my training pathway in general practice."
In his spare time, Dr Jain and his family can be found uncovering some of Kalgoorlie's best kept secrets.
"There are beautiful running and walking trails nearby, family friendly parks, sporting clubs to join and lots of places to eat different cuisines," he said.
"The local museum also hosts cultural events that are great to attend, or you can watch the yearly dirt track race at The Great Pit, which is lots of fun and worth the visit."
Interested in taking your career to the country? Find out more about our medical vacancies.