Growing a medical career in Geraldton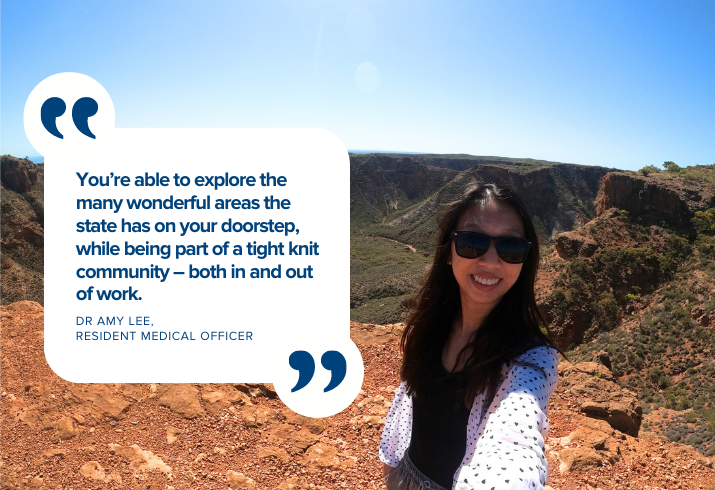 Dr Amy Lee says working as a junior doctor at Geraldton Hospital has been a highlight of her career.
"There is a real collegiate nature here from nursing staff to consultants, which makes it an enjoyable and supportive environment to work in," she said.
Every day is a learning opportunity at Geraldton for Dr Lee.
"You're surrounded by a high level of expertise in the hospital staff," she said.
"I have gained more exposure in patient presentations from working in the emergency department and general medicine, that you don't see in metro hospitals."
Dr Lee says there are many benefits to being a junior doctor in a regional town including a work life balance – attributing short commute times as a key selling point.
"The Midwest is a beautiful part of WA to live with its warm beaches, glorious weather for most of the year, whales in winter and wildflowers in spring! It's a nature lover's dream," she said.
"You're able to explore the many wonderful areas the state has on your doorstep, while being part of a tight knit community – both in and out of work.
"When I arrived, I knew no-one and nothing about the hospital or region. Now, one year later, I've met so many fantastic new people and Geraldton feels like home."
Dr Lee highly recommends taking a medical career to the country.
"It's great for broadening your medical experiences in a friendly and supportive workplace, with the opportunity to dive into less-explored parts of WA."
Want to work and play in country WA? Check out our current vacancies.